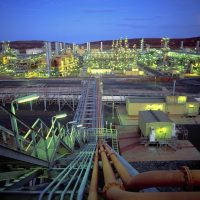 Aarvak Services is a major force in the Oil, Gas, & Industrial Fields, committed to providing expertise in Project Management, Engineering, Design, Inspection, Procurement, and Construction services for the Oil, Gas Production and Processing Industries.
With our US head office based in Houston, Texas and our Canadian head office based in Calgary, Alberta, Aarvak Services has provided the United States, Canada, and South American countries with Quality EPC services since 1974.
Aarvak Services manages millions of dollars worth of projects annually for the Oil and Gas Industry.
Aarvak's commitment to quality and service has always been supported by performance. The company has developed its own operating standards, among these include: complying with specifications; always striving for excellence; adopting a zero-defect policy; and always knowing and demonstrating the cost and benefits of quality. Today the company operates on the philosophy of total quality management.
Aarvak Services provides technical services that assist our clients' needs and improve their process. We develop resourceful services, implement cost effective solutions and engineering & safety integrated programs.
Aarvak's turnkey approach and project management concepts are rapidly becoming the forerunner in general contracting fields. Our field engineers provide "on-site" design, engineering, construction, progress monitoring, and quality control to assure that the interim scheduled milestones and completion dates are met. The combination of professional in-house and field expertise, plus Aarvak's unique purchasing arrangements, ideally position Aarvak as a superior company in all sectors of Oil and Gas.
Contact Aarvak Services now
by phone at
+1-403-617-3883
or email at
info@aarvak.com